A Little Bit About Us
Cynthia is a gifted kitchen designer. Her designs reflect her personal passion for cooking and entertaining guests. She can quickly envision an updated space for the needs of your family that encompasses modern form and function. Take a look at the Gallery to see a sample of her completed products.
Ray is personable and dependable. Communication during a remodel process is very important to a successful outcome. Ray's reputation reflects how he works through problems that always come up when a home is being remodeled.  He has 20 years of experience in the construction business. Ray's attention to detail shows perfectly in his beautiful portfolio. His commitment to honesty keeps his customers referring him to their friends and family.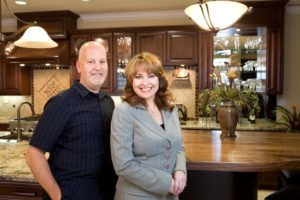 Testimonial 1
"I don't feel like I'm in my house. I feel like I'm in a magazine… Thanks for all of your help. You are all amazing!"
Don and Sue P.
Regardless of your budget you deserve a great kitchen. Big or small we do it all!
We Stay On The Job
Once the project is started we are typically there everyday until the job is complete.
We Take Pride In Our Work
We are proud of our work and we strive to do the best job possible. Referrals are very important to us and we know we won't get a referral without doing a great job.